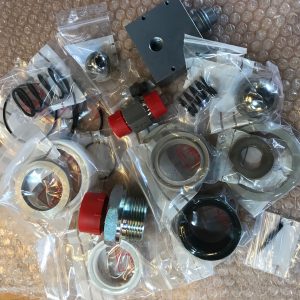 Of course Scanmaster are happy to offer spare parts and consumables to the dosing equipment. Some parts are on stock and fast delivered while less frequent parts are required from our suppliers and may require production, assembling or longer delivery times.
We suggest that you ask for quotations and are happy to give advise about what to keep on stock.
Mixers & needles etc.
We have a wide range of static mixers as well as dispensing valve needles for use with our dosing equipment.
We stock the following products:
Adhesive Remover Special:
A unique solvent for glue.
Simply put the items in the liquid until the glue is dissolved.
Sold in 5 kilo bottles: Order no .: 3018S
Mesamoll:
A softener that lubricates and forms an airtight membrane.
Ensures that isocyanate hardener does not react with air humidity and begins to crystallize.
Sold in 5 liter bottles: Order no .: 26.05.011
Silica gel:
Granules to dry the air in both pressure tanks and 200 liters dishes.
Cans with 1 kg: Order no .: 30.05.036
Security equipment
Take good care of yourself! We supply protective equipment such as protective gloves and goggles.
Contact us to learn more about how you can best take care of yourself and your people.
Chemistry does not have to be dangerous!
We only use and sell chemistry that does not require special labeling.
Thus, you do not have to deal with a lot of complicated security requirements.
Go to Download Center to find data sheets
Send orders and requests to Linda on info@scanmaster.dk if you need parts or consumables.