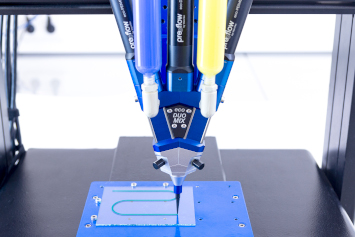 (for danish and swedish, please scroll down)
eco-DUOMIX Dispensing System for all Difficult to Mix 2-component Materials
Utilized components, built-in technology, cycle time requirements and surrounding parameters on a production line – these are four attributes that almost always influence the quality level of adhesive connections in an industrial environment. To date, manufacturers from the automotive sector, electronics industry, and medical technology have been using individual mixing and dispensing systems. The dispensing systems provided are always best matched to the specific adhesive and the specified machine design, with the best results and maximum performance in mind. The problem: There are almost 40,000 adhesives with various processing parameters. preeflow – a ViscoTec brand – is now launching the compact eco-DUOMIX, a dispensing solution that can mix and dispense silicones (Si), epoxy resins (EP), polyurethane (PU), polyester resin (UP) or acrylate.
Currently, there are only a few mixing and dispensing systems that can be used to mix and apply all existing adhesives. The biggest challenge are components that are difficult to mix, since they usually have to undergo a longer mixing process in order to optimally bond. To fill this industrial gap, preeflow is now launching the eco-DUOMIX in full scale production. Difficult to mix two-component materials, for which purely static mixing was previously not sufficient, can now be successfully mixed. Instead of a mixing spiral, the eco-DUOMIX is equipped with a mixing capsule optimized for dead space, which can be used for dynamic mixing for the first time. Materials with the same and/or different viscosities were developed and evaluated. Mixing ratios ranging from 1:1 to 10:1 are technically possible. The eco-DUOMIX is designed for speeds up to 2000 rpm. Compared to the classic mixing spiral of other dispensing systems, the material consumption in the motor-driven mixing capsule is significantly lower, which has a positive effect on the overall cost, especially when using expensive materials.
Mixing capsule reduces installation space and delivers optimized material mixtures
In terms of dispensing quantities, preeflow is based on the already established systems from ViscoTec and allows a minimum dispensing quantity of up to 0.008 ml with the eco-DUOMIX, which can be applied with an accuracy of +/- 1 %. The dead space optimized mixing capsule used, instead of a mixing spiral, is available as a consumable and is installed directly at the outlet of the dispenser. Inside the capsule, the motor-driven mixer ensures optimized mixing, even of components that are difficult to process, even at small volume.
An exact application of even the smallest sealing beads is achieved by means of a replaceable dispensing needle, which is mechanically connected to the mixing capsule. This eliminates the need for time-consuming calibration processes and always delivers reproducible results. The technical implementation also results in a lower drip potential and thus significantly lower thread drawing problems on a component, which has a positive effect on desired cycle times. This aspect is underlined and demonstrated by the measurable linearity between rotor speed and output quantity. With the eco-DUOMIX, even if the density and viscosity of the components to be mixed vary once due to quality differences, the same dispensing result can always be achieved.
Issues such as adhesive type or viscosity become obsolete in the machine design phase, because they can now be handled flexibly and can be specified at a later point in time – basically before commissioning. To guarantee this flexibility, preeflow uses stator and rotor materials in addition to the mixing capsule, which are almost 100 % compatible with all adhesive types available on the market. The plug & play approach, and well-thought-out interfaces, promote fast system integration and easy commissioning. The eco-DUOMIX is the ideal dispensing solution when it comes to designing a system in which the dispensing of very small quantities of adhesive, increased cycle rates, and absolute accuracy is required. This way, manufacturers can keep all options open for the 2-component materials to be implemented, right up to the last minute. In addition, this system is an ideal fit for medical technology, as well as the automotive, and electronics industries.
The eco-DUOMIX will be presented live for the first time at the Hannover Messe at the booth of preeflow partner Vieweg: Hall 6, Booth F26
Dispensing test
Comparison of mixing results at static and dynamic mixing with the same volume flow and identical laboratory conditions: The samples were run with the same control unit (calibration and program were identical) and the same base pump (drives, pump housing, rotor and stator, etc.). Only the way of mixing the material was changed. For the dosing tests, a difficult to process two-component epoxy adhesive was used. The mixing ratio is 10:1 (A:B) by weight. The samples were prepared at different dosing speeds (0.5 ml/min – 6 ml/min). As can be seen in Figure 1, the test material with the static mixing is not processed properly – the material is only partially mixed and does not cure completely.
For the tests of the dynamic mixture, speeds of ~200 1/min, up to ~2000 1/min were used. As can be seen in Figure 2, this material is already homogeneously mixed at the minimum speed, which optically does not differ from the samples with higher dosing speeds and mixer speeds.
Result:
The two-component epoxy adhesive, which could not be processed by static mixing, is reliably mixed by dynamic mixing, even at the lowest mixer speed and can be optimally processed..
Dispenseringssystem til alle "hard to mix" 2-komponentmaterialer
Slidte komponenter, indbygget teknologi, krav til cyklustid og omgivende parametre på en produktionslinje – dette er fire punkter, der næsten altid påvirker kvaliteten af klæbeforbindelser i et industrielt miljø. Indtil videre har fabrikanter fra bilindustrien, elektronikindustrien og medicinsk teknologi anvendt individuelle blande- og dispenseringssystemer. Disse doseringssystemer udvikles altid, så de passer bedst til det specifikke klæbemiddel og det specificerede maskindesign med de bedste resultater og maksimal ydelse i tankerne. Problemet: Der er næsten 40.000 klæbemidler med forskellige behandlingsparametre. preeflow – et ViscoTec-mærke – lancerer nu eco-DUOMIX, en dispenseringsløsning, der kan blande og dispensere silikoner (Si), epoxyharpikser (EP), polyuretan (PU), polyesterharpiks (UP) og acrylat.
I øjeblikket er der kun et par blande- og dispenseringssystemer, der kan bruges til at blande og påføre alle typer eksisterende klæbemidler. Den største udfordring er komponenter, der er vanskelige at blande, "hard to mix", da disse normalt skal gennemgå en længere blandingsproces for at optimere bindingen. For at udfylde dette industrielle hul launcher preeflow nu eco-DUOMIX i fuldskala produktion. "Hard to mix" to-komponentmaterialer, for hvilke rent statisk blanding tidligere ikke var tilstrækkelig, kan nu med succes blandes. I stedet for en blandingsspiral er eco-DUOMIX udstyret med en blandingskapsel, der er optimeret til frivolumen, som kan bruges til dynamisk blanding for første gang. Materialer med samme og / eller forskellige viskositeter er blevet testet og vurderet. Blandingsforhold fra 1: 1 til 10: 1 er teknisk mulige. Eco-DUOMIX er designet til hastigheder op til 2000 o / min. Sammenlignet med den klassiske blandingsspiral fra andre doseringssystemer er materialeforbruget i den motordrevne blandingskapsel betydeligt lavere, hvilket har en positiv effekt på de samlede omkostninger, især når man bruger dyre materialer.
Blandingskapsel reducerer installationspladsen og leverer optimerede materialeblandinger
Med hensyn til doseringsmængder er preeflow baseret på de allerede etablerede systemer fra ViscoTec og tillader en mindste doseringsmængde på 0,008 ml med eco-DUOMIX, som kan anvendes med en nøjagtighed på +/- 1%. Den anvendte, optimerede blandekapsel, der anvendes til frivolumen i stedet for en blandingsspiral, fås som forbrugsvare og installeres direkte ved udløbet af dispenseren. Inde i kapslen sikrer den motordrevne blander optimeret blanding, selv af komponenter, der er vanskelige at behandle og selv ved en lille volumen.
En nøjagtig anvendelse af selv de mindste potting beads opnås ved hjælp af en udskiftelig dispensernål, som er mekanisk forbundet til blandingskapslen. Dette eliminerer behovet for tidskrævende kalibreringsprocesser og leverer altid reproducerbare resultater. Den tekniske implementering resulterer også i et lavere dryppotentiale og dermed markant lavere problemer med at der trækkes tråde/strenge på komponenten. Dette har en positiv effekt på de ønskede cyklustider. Dette aspekt understreges og demonstreres af den målbare linearitet mellem rotorhastighed og outputmængde. Med eco-DUOMIX, selvom densiteten og viskositeten af komponenterne, der skal blandes, varierer på grund af kvalitetsforskelle, kan det samme doseringsresultat altid opnås.
Emner som klæbemiddeltype eller viskositet bliver dermed underordnede i maskinens designfase, fordi de nu kan håndteres fleksibelt og kan specificeres på et senere tidspunkt – grundlæggende inden idriftsættelse. For at garantere denne fleksibilitet bruger preeflow stator- og rotormaterialer ud over blandingskapslen, som er næsten 100% kompatible med alle klæbetyper, der findes på markedet. Plug & play-tilgangen og gennemtænkte grænseflader fremmer hurtig systemintegration og let idriftsættelse. Eco-DUOMIX er den ideelle dispenseringsløsning, når det kommer til at designe et system, hvor der kræves dispensering af meget små mængder klæbemiddel, øgede cyklushastigheder og absolut nøjagtighed. På denne måde kan producenterne holde alle muligheder åbne for de 2-komponentmaterialer, der skal implementeres, helt op til sidste øjeblik. Derudover er dette system en ideel pasform til medicinsk teknologi såvel som bilindustrien og elektronikindustrien.
Dispenseringstest (se billeder) 
Sammenligning af blandingsresultater ved statisk og dynamisk blanding med samme volumenstrøm og identiske laboratoriebetingelser: Prøverne blev kørt med den samme styreenhed (kalibrering og program var identiske) og den samme basepumpe (drev, pumpehus, rotor og stator osv.). Kun måde at blande materialet på blev ændret. Til doseringstestene blev der anvendt et "hard to mix" tokomponent-epoxyklæbemiddel. Blandingsforholdet er 10: 1 (A: B) efter vægt. Prøverne blev fremstillet med forskellige doseringshastigheder (0,5 ml / min – 6 ml / min). Som det kan ses i figur 1, forarbejdes testmaterialet med den statiske blanding ikke korrekt – materialet blandes kun delvist og hærder ikke fuldstændigt.
Til test af den dynamiske blanding blev hastigheder på ~ 200 1 / min, op til ~ 2000 1 / min anvendt. Som det kan ses i fig. 2, er dette materiale allerede homogent blandet med minimumshastigheden, hvilket optisk ikke adskiller sig fra prøverne med højere doseringshastigheder og blandehastigheder.
Resultat:
Den to-komponent epoxylim, som ikke kunne behandles ved statisk blanding, blandes pålideligt ved dynamisk blanding, selv ved den laveste blandehastighed og kan behandles optimalt.
Vil du vide mere om eco-DUOMIX eller har du spørgsmål til din dispenseringsopgave, så kontakt os gerne på info@scanmaster.dk 
NYHET! Avsluta med klumpiga lim …
Dispenseringssystem för alla svårblandade material med två komponenter
Slitna komponenter, inbyggd teknik, cykeltidskrav och omgivningsparametrar på en produktionslinje – det är fyra punkter som nästan alltid påverkar kvaliteten på limfogar i en industriell miljö. Hittills har tillverkare av fordon, elektronik och medicinteknik använt individuella blandnings- och dispenseringssystem. Dessa doseringssystem är alltid utvecklade för att bäst passa den specifika lim- och maskindesignen med bästa resultat och maximal prestanda i åtanke. Problemet: Det finns nästan 40 000 lim med olika behandlingsparametrar. preeflow – ett varumärke av ViscoTec – lanserar nu eco-DUOMIX, en dispenseringslösning som kan blanda och dispensera silikoner (Si), epoxihartser (EP), polyuretan (PU), polyesterharts (UP) och akrylat.
För närvarande finns det bara några få blandnings- och dispenseringssystem som kan användas för att blanda och applicera alla typer av befintliga lim. Den största utmaningen är komponenter som är svåra att blanda, svåra att blanda, eftersom dessa vanligtvis måste genomgå en längre blandningsprocess för att optimera limning. För att fylla detta industrihål förflyttar starthållaren nu eco-DUOMIX i fullskalig produktion. Svårblandade tvåkomponentmaterial för vilka rent statisk blandning tidigare var otillräcklig kan nu framgångsrikt blandas. Istället för en blandningsspole är eco-DUOMIX utrustad med en blandningsvolym optimerad för fri volym, som kan användas för dynamisk blandning för första gången. Material med samma och / eller olika viskositeter har testats och utvärderats. Blandningsförhållanden från 1: 1 till 10: 1 är tekniskt möjliga. Eco-DUOMIX är designad för hastigheter upp till 2000 varv / minut. Jämfört med den klassiska blandspolen från andra doseringssystem är materialförbrukningen i den motoriserade blandningskapselen betydligt lägre, vilket har en positiv effekt på den totala kostnaden, särskilt när du använder dyra material.
Blandningskapsel minskar installationsutrymmet och levererar optimerade materialblandningar
När det gäller doseringshastigheterna är förflödet baserat på ViscoTecs redan etablerade system och tillåter en minsta doseringsmängd på 0,008 ml med eco-DUOMIX, som kan användas med en noggrannhet på +/- 1%. Den optimerade blandningskapseln som används för fri volym istället för en blandningsspole finns tillgänglig som förbrukningsbar och installeras direkt vid utmatningen till dispensern. Inuti kapseln säkerställer den motoriserade blandaren optimerad blandning, även av komponenter som är svåra att bearbeta och till och med med en liten volym.
Exakt användning av även de minsta pottingpärlorna uppnås genom en utbytbar dispensernål som är mekaniskt ansluten till blandningskapseln. Detta eliminerar behovet av tidskrävande kalibreringsprocesser och ger alltid reproducerbara resultat. Den tekniska implementeringen resulterar också i en lägre dropppotential och därmed avsevärt lägre problem med trådar / strängar som dras på komponenten. Detta har en positiv effekt på de önskade cykeltiderna. Denna aspekt betonas och demonstreras av den mätbara lineariteten mellan rotorhastighet och utgångsmängd. Med eco-DUOMIX, även om densiteten och viskositeten för komponenterna som ska blandas varierar på grund av kvalitetsskillnader, kan samma doseringsresultat alltid erhållas.
Ämnen som limtyp eller viskositet blir således underordnade maskinens konstruktionsfas, eftersom de nu kan hanteras flexibelt och kan specificeras vid ett senare tillfälle – i grund och botten före idrifttagning. För att garantera denna flexibilitet använder förflödet stator- och rotormaterial utöver blandningskapseln, som är nästan 100% kompatibel med alla limtyper som finns på marknaden. Plug & Play-strategin och väl genomtänkta gränssnitt främjar snabb systemintegration och enkel driftsättning. Eco-DUOMIX är den ideala dispenseringslösningen när det gäller att utforma ett system som kräver dispensering av mycket små mängder lim, ökade cykelhastigheter och absolut noggrannhet. På detta sätt kan tillverkarna hålla alla alternativ öppna för att 2-komponentmaterial ska implementeras fram till sista minuten. Dessutom är detta system en idealisk passform för medicintekniken såväl som fordons- och elektronikindustrin.
Dispensationstest (se bilder)
Jämförelse av blandningsresultat för statisk och dynamisk blandning med samma volymflöde och identiska laboratorieförhållanden: Proverna kördes med samma styrenhet (kalibrering och program var identiska) och samma baspump (drivning, pumphus, rotor och stator, etc.). Endast sättet att blanda materialet ändrades. Ett "svårblandat" tvåkomponent-epoxylim användes för doseringstesterna. Blandningsförhållandet är 10: 1 (A: B) efter vikt. Proverna framställdes vid olika doseringshastigheter (0,5 ml / min – 6 ml / min). Som framgår av figur 1 behandlas testmaterialet med den statiska blandningen inte korrekt – materialet blandas endast delvis och härdar inte helt.
För testning av den dynamiska blandningen användes hastigheter på ~ 200 l / min, upp till ~ 2000 l / min. Som framgår av fig. 2, är detta material redan homogent blandat med minimihastigheten, vilket optiskt inte skiljer sig från proverna med högre doseringshastigheter och blandningshastigheter.
Resultat:
Tvåkomponentens epoxylim, som inte kunde behandlas genom statisk blandning, blandas pålitligt genom dynamisk blandning även vid lägsta blandningshastighet och kan behandlas optimalt.
Om du vill veta mer om eco-DUOMIX eller har frågor om din dispenseringsuppgift, vänligen kontakta oss på info@scanmaster.dk