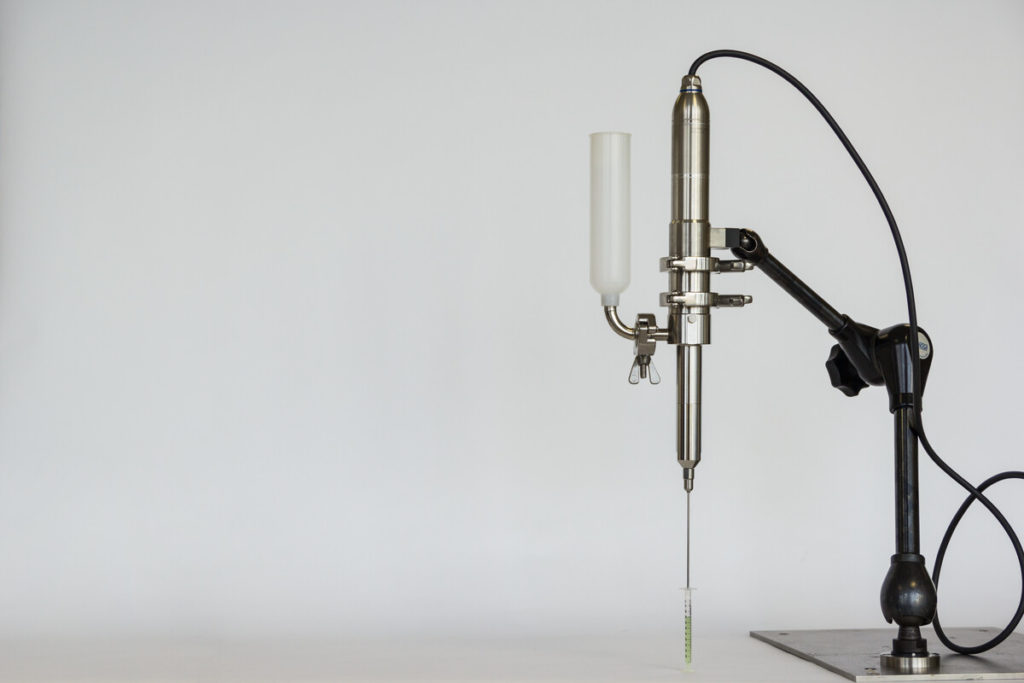 Together with our supplier ViscoTec, Scanmaster wants to help win the battle against Corona as quickly as possible. For this purpose, we would like to support you with our dosing equipment and our experience, if required.
ViscoTec dosing systems are particularly suitable for dispensing or spraying a wide variety of chemical suspensions such as disinfectants, liquid medicines or even pastes and greases. The dispensers are easy to integrate – even into existing systems. And they are suitable for both semi-automatic and fully automatic dosing tasks.
ViscoTec and Scanmaster has decades of expertise in a wide range of dispensing applications. Among others, in the specially created Hygienic Solutions division (pharmaceuticals, medical technology, diagnostics, etc.). The tasks of our dosing technology in this area include, for example, the continuous application of diagnostics on test strips, the filling of reagents into test tubes or the filling of serum separating gels into tubes.
In the field of microdispensing, preeflow by ViscoTec in particular has already proven itself in countless applications. Details of the high-precision 1- & 2-component and spray dispensers can be found here: www.scanmaster.dk/preeflow. All preeflow application systems can be supplied from stock at short notice.
Additive manufacturing is one of the newest areas of ViscoTec. With the 3D print heads, fluids and pastes can be printed. Thanks to extensive internal tests and successful applications in recent years, we can also offer advice in this area.
Please do not hesitate to contact us.
Even if we can only help  with our experience in the field of dosing systems and send you to the right supplier. We will be pleased to advise you at any time.
To contact us on this subject, please simply send an e-mail with a brief description of the problem including contact details to info@scanmaster.dk. One of our employees will then contact you immediately.
The advantages of our technology at a glance:
Gentle processing of shear-sensitive materials
Programmable suck-back function – for clean dispensing results without thread pulling or dripping
>99 % repeatability of dosing and filling processes
Processes regardless of viscosity
If required, dosing components in hygienic design
Scanmaster i kampen mod corona
Sammen med vores leverandør ViscoTec ønsker Scanmaster at hjælpe med at vinde kampen mod Corona så hurtigt som muligt. Til dette formål vil vi gerne støtte dig med vores doseringsudstyr og vores erfaring, hvis det er nødvendigt. 
ViscoTec doseringssystemer er især egnede til dispensering eller sprøjtning af en lang række kemiske suspensioner såsom desinfektionsmidler, flydende medicin eller endda pastaer og fedt. Dispenserne er lette at integrere – også i eksisterende systemer. Og de er velegnede til både halvautomatisk og fuldautomatisk doseringsopgaver. 
ViscoTec og Scanmaster har årtiers ekspertise inden for en lang række dispenseringsapplikationer. Blandt andet i den specielt oprettede Hygienic Solutions-afdeling (medicinalvarer, medicinsk teknologi, diagnostik osv.). Opgaverne med vores doseringsteknologi på dette område inkluderer for eksempel kontinuerlig anvendelse af diagnostik på teststrimler, påfyldning af reagenser i reagensglas eller påfyldning af serumudskillende geler i rør.
Inden for mikrodispensering har især preeflow fra ViscoTec allerede vist sig nyttig i utallige applikationer. Detaljer om 1- og 2-komponenters og sprøjtedispensere med høj præcision findes her: www.scanmaster.dk/preeflow. 
Alle forudgående applikationssystemer kan leveres fra lager med kort varsel. 
Additivfremstilling er et af de nyeste områder af ViscoTec. Med 3D-printhovederne kan væsker og pastaer udskrives. Takket være omfattende interne test og vellykkede applikationer i de senere år kan vi også tilbyde rådgivning på dette område. 
Tøv ikke med at kontakte os.
Selv hvis vi kun kan hjælpe med vores erfaring inden for doseringssystemer og sende dig til den rigtige leverandør. Vi vil med glæde rådgive dig når som helst. 
For at kontakte os om dette emne skal du blot sende en e-mail med en kort beskrivelse af problemet inklusive kontaktoplysninger til info@scanmaster.dk. En af vores medarbejdere vil derefter kontakte dig med det samme. 
Et overblik over fordelene ved vores teknologi: 
Skånsom behandling af forskydningsfølsomme materialer 

Programmerbar suck

-back-funktion – til rene doseringsresultater uden at tråden trækker eller drypper

> 99% gentagelighed af doserings- og påfyldningsprocesser 

Muligt uanset viskositet 

Om nødvendigt doseres komponenter i hygiejnisk design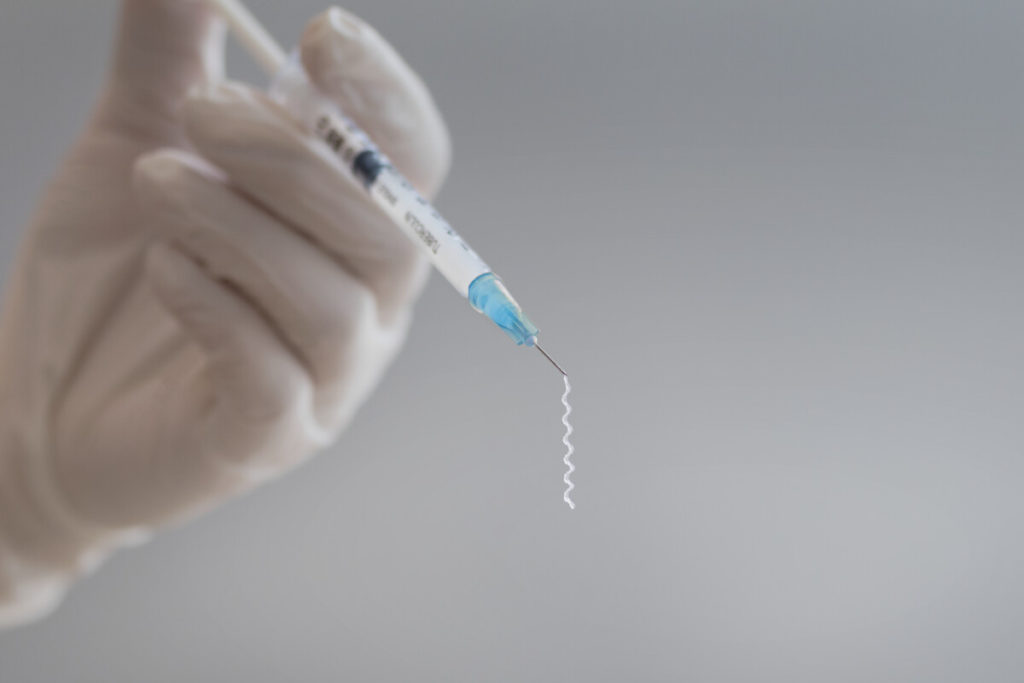 Scanmaster i kampen mot COVID-19
Tillsammans med vår leverantör ViscoTec vill Scanmaster hjälpa till att vinna striden mot Corona så snabbt som möjligt. För detta ändamål vill vi stödja dig med vår doseringsutrustning och vår erfarenhet, om det behövs.
ViscoTec-doseringssystem är särskilt lämpliga för dispensering eller sprutning av en mängd olika kemiska suspensioner såsom desinfektionsmedel, flytande mediciner eller till och med pasta och fett. Dispensrarna är lätta att integrera – även i befintliga system. Och de är lämpliga för både halvautomatiska och helautomatiska doseringsuppgifter.
ViscoTec och Scanmaster har decennier av expertis inom ett brett utbud av dispenseringsapplikationer. Bland andra i den speciellt skapade Hygienic Solutions-divisionen (läkemedel, medicinsk teknik, diagnostik, etc.). Uppgifterna för vår doseringsteknik inom detta område inkluderar till exempel kontinuerlig applicering av diagnostik på testremsor, fyllning av reagens i provrör eller fyllning av serumavskiljande geler i rör.
Inom mikrodispenseringsfält har preeflow av ViscoTec redan visat sig i otaliga applikationer. Detaljer om 1- och 2-komponent- och spray-dispensrar med hög precision finns här: www.scanmaster.dk/preeflow.
Alla preeflow dela kan levereras från lager med kort varsel.
Tillsatsstillverkning är ett av de nyaste områdena i ViscoTec. Med 3D-skrivhuvuden kan vätskor och pastor skrivas ut. Tack vare omfattande interna tester och framgångsrika applikationer under senare år kan vi också erbjuda råd inom detta område.
Tveka inte att höra av er till oss.
Även om vi bara kan hjälpa till med vår erfarenhet inom doseringssystem och skicka dig till rätt leverantör. Vi kommer gärna att ge dig råd när som helst.
För att kontakta oss i detta ämne, skicka bara ett e-postmeddelande med en kort beskrivning av problemet inklusive kontaktinformation till info@scanmaster.dk. En av våra anställda kommer då att kontakta dig omedelbart.
Fördelarna med vår teknik i en överblick:
Skonsam bearbetning av skjuvkänsliga material

Programmerbar sugback-funktion – för rena dispenseringsresultat utan att tråden dras eller droppar

> 99% repeterbarhet vid doserings- och fyllningsprocesser

Processer oavsett viskositet

Vid behov, dosera komponenter i hygienisk design