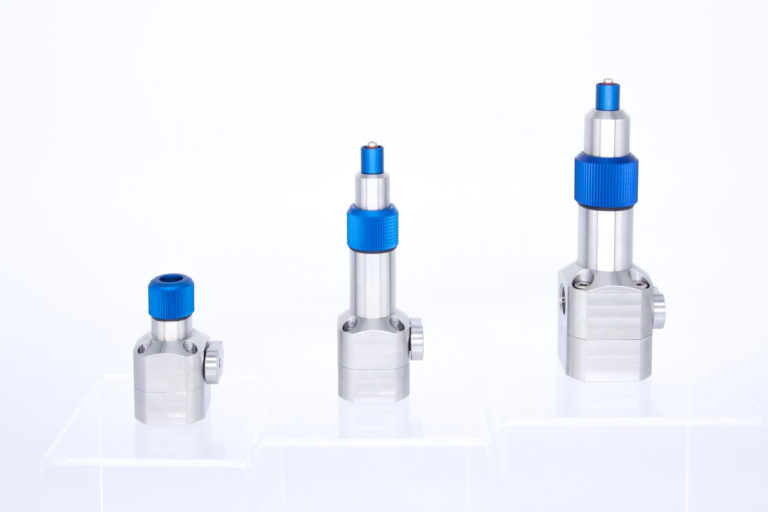 New in the portfolio: Stainless steel kit for eco-PEN 300 to 450
Special requirements require special measures. To meet the requirements of customers and sales partners, preeflow has developed a stainless-steel kit for the eco-PEN dispensers 300, 330 and 450. These alternative housing components are now available and in stock. The stainless-steel kit is perfectly suited to convert a standard eco-PEN dispenser. The stainless-steel components replace the standard POM (polyoxymethylene) housing components. All wetted parts of the new kits are made of high-quality stainless-steel 1.4404 (AISI 316L).
Various requirements in specific applications have made it necessary to expand the portfolio:
Some applications require that all parts of the dispensing equipment in contact with the product are made of stainless steel, VisChem and FFKM.
In other applications, certain components of the dispensing materials, e.g. solvents or plasticizers, have a negative effect on the material POM (degradation in relation to temperature, time, and material concentration). After extensive testing, these materials can now be dispensed without any issues.
Depending on the material used, it may also be necessary for the housing components, in contact with the product, to be resistant to fluxes for soldering, oxidants (peroxides or ozone) or organic and inorganic acids below ph4.
And in some applications a robust design is necessary due to many cleaning intervals.
In terms of dimensions, the stainless-steel version is identical to the standard plastic version. The additional weight compared to the POM version is 100 g for eco-PEN 300 and 185 g for eco-PEN 330 and 450.
Further information on the eco-PEN series can be here.
Microdispensing to perfection!
preeflow® is a brand name powered by ViscoTec Pumpen- u. Dosiertechnik GmbH. ViscoTec primarily deals in systems required for conveying, dispensing, applying, filling and emptying medium to high-viscosity fluids. The headquarters of the technological market leader is in Töging (upper Bavaria, near Munich). In addition, ViscoTec has subsidiaries in the USA, in China, Singapore, India and in France and employs about 260 people worldwide. Established in 2008, preeflow® ensures precise, purely volumetric dispensing of liquids in the smallest of quantities. preeflow® products are appreciated worldwide, not to mention because of their unique quality – Made in Germany. An international distribution network offers professional service and support in all areas of preeflow® dispensing systems. The various fields of application include, among others, automotive, electrical and electronics industry, medical technology, aerospace, renewable energies, electrical and hybrid technology and measurement and sensor technology. The complete preeflow® portfolio can be easily integrated due to standardized interfaces. Worldwide more than 20,000 preeflow® systems are working in semi- or fully automated dispensing applications ­ to the user's and customer's complete satisfaction.