If the distance between the dispensing needle and the substrate is too small it will result in undesirable dispensing results such as flattened bead geometries, adhesion on the dispensing needle or even dripping of the needle during dot dispensing will occur, which can have a negative effect on subsequent processes such as bonding.
Also a too large distance between dispensing needle and substrate shows unwanted dispensing results such as irregular depositing on the substrate, unclean thread breakage, as well as unclean dot dispensing.
The proper distance depends on the needle used and the material. Distances between 0.8 and 0.9 times the needles diameter have proven to be practical.
When the distance is correct, the dispensing is perfect!
We hope that our dispensing tip has helped you to further perfect you dispensing results with our system.
For more information, please contact us here.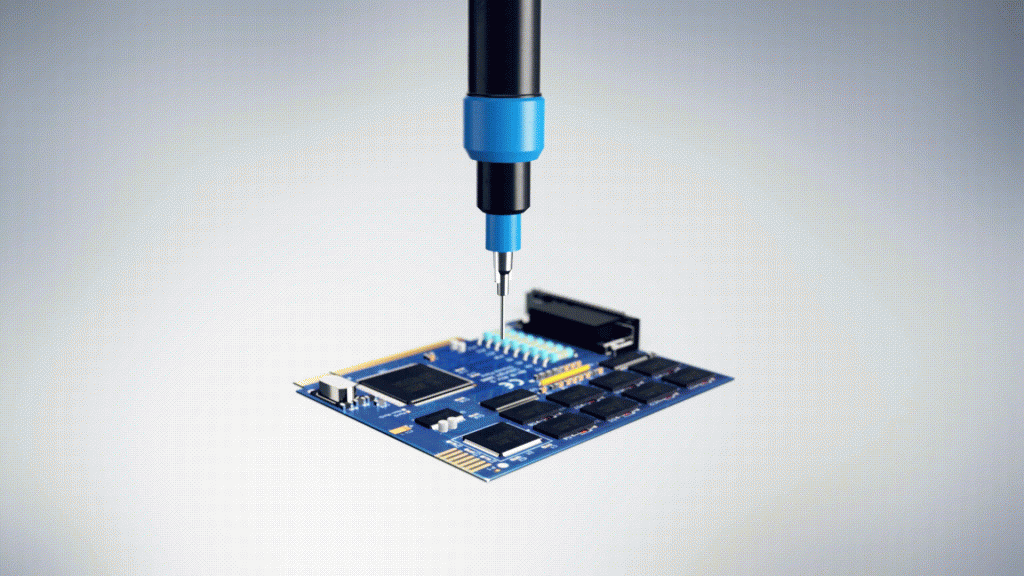 Afstand mellem doseringsnål og underlag
Hvis afstanden mellem dispenseringsnålen og underlaget er for lille, vil det resultere i uønskede dispenseringsresultater, såsom flade perlegeometrier, vedhæftning på dispenseringsnålen eller endda dryp fra nålen under prikdispensering, hvilket kan have en negativ effekt på de efterfølgende processer såsom bonding.
Også en for stor afstand mellem dispenseringsnål og underlag viser uønskede dispenseringsresultater såsom uregelmæssig afsætning på underlaget, urent trådbrud samt uren prikdispensering.
Den korrekte afstand afhænger af den anvendte nål og materialet. Afstande mellem 0,8 og 0,9 gange nålediameteren har vist sig at være praktiske.
Når afstanden er korrekt, er dispenseringen perfekt!
Vi håber, at vores dispenseringstip har hjulpet dig med at perfektionere dine dispenseringsresultater.
Har du brug for yderligere information, så kontakt os gerne her.