Often equipment is used extensively in combination with robots for fully automated and complex applications. Bila Robotics, the sole distributor of Universal Robots in Denmark, has appointed Scanmaster as their preferred partner for dosing.
UR Robot – becomes a CoDoserTM with a Scanmaster Dosing system.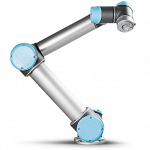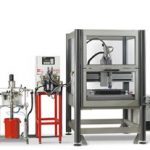 Scanmaster CoDoser™
CoDoser™ is a new Scanmaster brand with use of an UR Robot for either collaborative work handling of either the dosing process or handling of the units to be filled.
The solution is ideal for dosing precisely in large numbers and faster. It involves only a simple set-up combined with easy programming. Investing in experienced robot programmers is not necessary.
For lower costs per unit and gained efficiency
Ask for more information and see also our webshop.