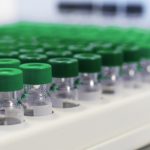 We have solutions when it comes to dosing, conveying or barrel or cartridge unloading tasks involving food or food-based raw materials. Our strength lies in handling high-viscosity, solid containing material and shear-sensitive fluids, especially food. The products are conveyed and dosed in a way that is free of pressure surges and pulsation.
All systems comply with standard food industry guidelines (EHEDG, FDA). Filling of various liquids with a food pump is possible (like milk, ketchup, mustard, sauce, jam, honey, yogurt, cottage cheese, aromatics, melted chocolate and many others).
Dosing varying quantities of stringy ingredients like honey
Barrel emptying – i.e. Tomato puree
Icing biscuits – Fully automatic, robot-assisted icing of biscuits
Producing or packing cosmetics
Filling tubes with an abrasive paste
Call us or send an e-mail and discuss your opportunities with Thorbjørn.