Other products that Scanmaster offers:
Preo Hotmelt adhesive applicators
EASY series hot-melt applicator products are particularly designed for applications of adhesives and thermoplastic materials with viscosity up to 70,000 Cps.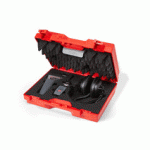 Leak-Detect
A leakage finder for both compressed air and vacuum systems as well as combustion engine intake and exhaust systems.
TrumMeter
Precision instrument for measuring belt tension. The instrument shows Hertz, Newton or Poundforce.
Electronic Brake Units
Frenomat / Frenostat – secure way of full motor stop.
Protective and environmentally friendly packaging
Our expertise is to protect sensitive material from moisture, shock and corrosion during shipment and storage.
VCI (Volatile Corrosion Inhibitor)
A combination of VCI plastic and VCI paper or VCI foampads is used to ensure that the right amount of rust protection in the packaging.
Scanmaster puts all its expertise and experience on hand and advises on packaging and transport of materials with VCI technology.
Find more information under Download Center