Description
A compact, versatile and reliable system for precise dosing of 2K media
Applications
Coating
Encapsulating
Gluing
Rapid Prototyping
Sealing
Industries
These modern metering systems can be used in any industry where materials need to be applied in a high precision and repeatable way.
Automotive
Electrical and electronic
Renewable energy
Aerospace
White goods
and many more
Features and Benefits
Variable mixing ratio
Variable output rate
Compact bench top machine (eldomix 100)
Simple operation
Shot dispensing or continuous flow
Over/under pressure protection
Solvent free
Functions
Pressure vessels are used to supply the material into the three phase asynchronous motor driven gear pumps where they are proportioned at the preselected ratio. Each gear pump is protected against over pressure as standard. Using optional integrated volume counters, the mixing ratio can be permanently controlled in freely configurable tolerances. In addition, the system can be equipped with a permanent air-fuel ratio control.
The eldomix is fitted with a metering computer with touch screen terminal and a static mixing system that includes a 2K valve combined with a disposable static mixer. Should mixed material be allowed to cure in the mixer, it can be replaced simply and inexpensively, thus avoiding a time consuming, expensive and environmentally damaging flushing cycle.
Technical Specifications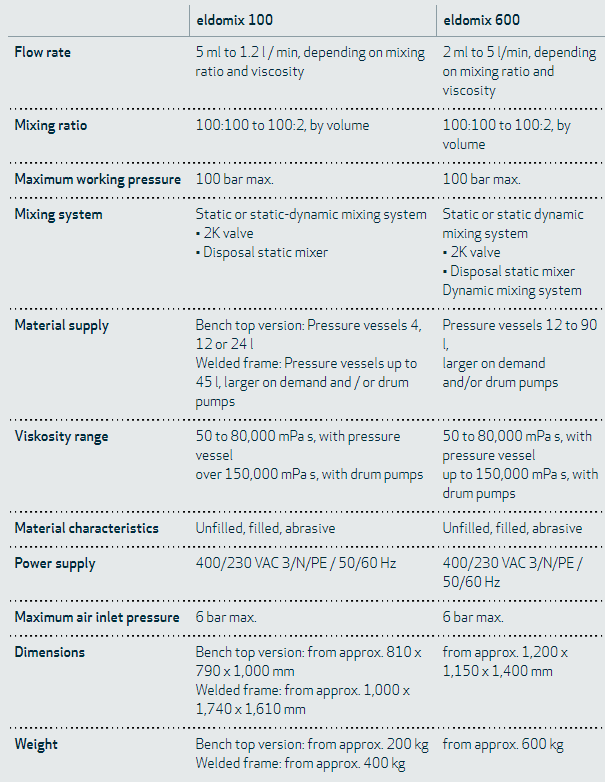 Which product do you require?
Together we will find the perfect solution for you.