Description
Features
Supply of medium to high viscosity material
Flow rate up to 6 litres/minute at 20 double strokes
Pressure ratio up to 75:1
Max. viscosity 5 million mPas
Differential piston pumps with fast-switching air motors
1- or 2-hand operation
Modular design with configurable components
Sealing available in various sizes and material finishes
Level Monitoring
The integrated control unit ensures that the pump does not draw in air when the drum is empty. When the minimum level is reached the pump will shut down automatically. An audible alarm is emitted when the drum becomes empty.
Options
External valves
The drum pump P200 can be supplied with external valves.
This new design offers the advantage of being able to carry out service and maintenance work on the pump without having to drain the system.
Wetted parts made of stainless steel or with specific surface treatment
Available in economy version for use with grease and oils.
Tandem Pumps
All DOPAG pumps are available in a tandem version. Featuring an automatic mechanism that switches between the pumps, container change with these pumps doesn't interrupt the production process.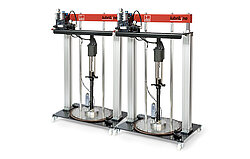 Drump pump with follower plate
A drum pump with a follower plate is used for processing materials to high-viscosity media. The follower plate is made of aluminium, steel or cast iron.
The follower plate is manufactured with elastomer wipers for efficiently wiping the inside walls of the drum clean during use. The wipers adjust to the diameter of the container.
Bung-mounted pump with cover plate
When processing low viscosity materials, a follower plate is not necessary for priming purposes.
The cover plate is used only as a protection against contamination of the medium to be fed.
Which product do you require?
Together we will find the perfect solution for you!