Description
Functions ladomix G-SF
To supply the material, vessels with a volume of 60 litres are used, which are refilled automatically by the use of vacuum suction lances as standard or optional via refilling pumps. Analogous rod sensors control the material level permanently. The metering is done by three phase asynchronous motor driven gear pumps which are mounted inside the vessels below the material level. Each gear pump is protected against over pressure as standard. The ladomix G-SF is controlled by a metering computer with touch screen. The machine is equipped with a static mixing system that includes a 2K valve combined with a disposable static mixer. If mixed material cured in the mixer, it can be replaced easily and inexpensively, thus a time consuming, expensive and environmentally damagingflushing cycle is not required.
Features and Benefits
Gear metering pumps mounted inside the vessels and below the material level, hence

reduction of maintenance through elimination of inner pump sealings
no pump sealings between material and atmosphere (no material leakage)
no pressurization of material vessels, therefore no air drying is required
optimal material conditioning

Vacuum processing, therefore

refilling of material could be realized via suction lances to avoid production stop (depending on viscosity)
no material loss while using refilling pumps (no deaeration necessary)

Standard system can be extended by options, thus all common laminating adhesives can be processed
Standard
Control cabinet mounted onto a movable chassis
Material vessels with

level control
connection for vacuum pump

Automatic refi ll via suction lances from vacuum
Manual degassing via diaphragm vacuum pump
Gear metering pumps with over pressure protection. The gear metering pumps are mounted below the material level to meter from vacuum.
Static mixing system

2K valve
disposable static mixer

Metering computer with Real Time Multitasking Operating System (64 programs could be stored)
Touchscreen
Internal USB interface with Backup- /Restore Function
Optional
Refilling pump
Silica gelfilter for drum ventilation
Proximity switch for position control of the ball valves for refilling
Material filter at vessel inlet
Heating
Mixing ratio control
Mixing ratio regulation
Pump checking program incl. rotation speed monitoring
Various dispensing systems
External USB interface
Weekly / daily timer
Level control in the roller gap with alternatively start/stop mode or continously controlled output rate and automatic layer thickness calculation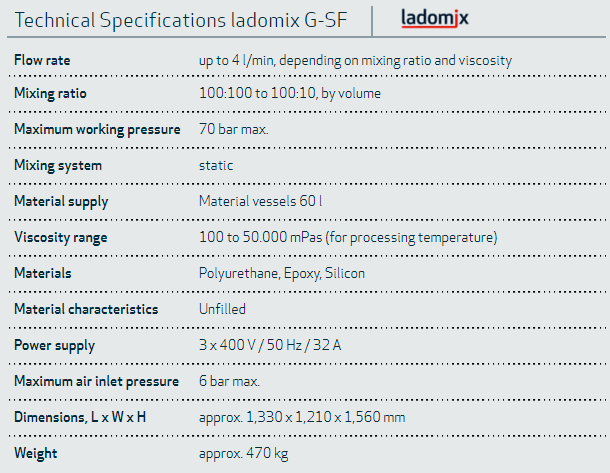 Which product do you require?
Together we will find the perfect solution for you.