LiquidFlow 30A – Dosing system
Specifically developed to process materials and applications requiring variable ratio functionality, the LiquidFlow 30 & LiquidFlow 30T machines incorporate reliable, proven technology in order to meter precise doses, or accurate beads of mixed product within a wide range of applications. The LiquidFlow 30 & LiquidFlow 30T machines also feature electric inverter drive motor control in order to provide precise control over material ratio, fl ow rate and shot size with the added benefi t of continuous fl ow rate. Whether casting small scale intricate moulds using RIM technology or applying uninterrupted beads for LED lighting or gasket forming, these machines off er a reliable solution to many dispensing requirements. In addition, the LiquidFlow 30 & LiquidFlow 30T can also be interfaced with automated systems for fully or semi-automatic applications.
For prices please contact info@scanmaster.dk or call us +45 4582 8090
Product Description
Typical Applications
• Electronic Potting
• Casting
• Moulding
• Component Bonding
• LED Lighting
Typical Materials
• Polyurethane
• Epoxy
• Silicone
Standard Features
• Bench mounted machine (LiquidFlow 30A)
• Floor standing machine on castors for portability (LiquidFlow 40)
• "Metered" or "Operator Controlled" shot size selection
• Service indicator lamp
Controls
• Integrated PLC control with colour HMI touchscreen operator
interface
• Flow rate adjustable via rotary potentiometer
• Air supply fi lter/regulator and gauge with connection check unit
• Main Off /On switch
• Emergency Stop & Reset Buttons
• Anti-gel automatic purge timer
• Either foot pedal, hand held trigger or remote start options available
• 230vAC electric supply + compressed air @ 80 p.s.i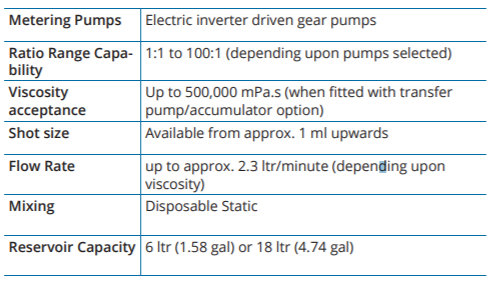 Which product do you require?
Together we will find the perfect solution for you.