Unique pump technology for abrasive fluids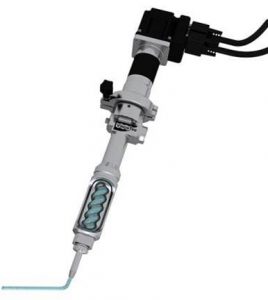 Get a perfect component in your production process.
The eccentric cavity pump completes the perfect dosing of abrasive fluid, for example thermally conductive paste and extremely abrasive and aggressive fluids with a unique endless piston principle.
Despite the high abrasion resistance of many spill fillers, soldering pastes, fluxing agents and thermal pastes, the dispensers meter with particularly low shear and high accuracy for micro doses beginning at 1 μl.
Scanmaster – in cooperation with Viscotec – offer these interesting solutions.
Go to our Document Center to download brochures.
In the field of dosing control in particular, Viscotec can meet practically all the special requests which may be contained in your requirements specification.
The goal is to optimise your processes extremely accurately, extremely reliably and extremely quickly.
Scanmaster and Viscotec combining core competence lies in solving complex high-end automation challenges in fully automatic production and filling lines.