ViscoTec Dispensing Expo
Visit the first virtual exhibition of the dispensing expert
Main topic of the first virtual trade show by ViscoTec, which takes place from December 1 to 3, is dispensing solutions for a wide range of applications and industries. From medical technology and 3D printing to aerospace or e-mobility – to name just a few.
The virtual program of the Dispensing Expo 2020 is diverse: Accompanying the exhibition, which is "open" day and night, there is the possibility to communicate with the dispensing technology experts at any time via live chat. This ensures that visitors from all countries and time zones all over the world can get in contact around the clock. Product innovations will be presented as live exhibits and an online trade congress will feature interesting presentations on current topics from the world of dispensing technology. In addition, visitors will have the opportunity to watch application videos and thus gain many interesting insights into dosing solutions of all kinds.
Despite contact restrictions and travel warnings, ViscoTec wants to stay in contact with its customers and interested parties. Thus, personal contacts are a top priority at the virtual trade show.
All presentations will be available for download on the dosing technology expert's website after the event. The event is free of charge and – apart from the live chats – will be held in English language. Registration is possible immediately under:
dispensing-expo.viscotec.de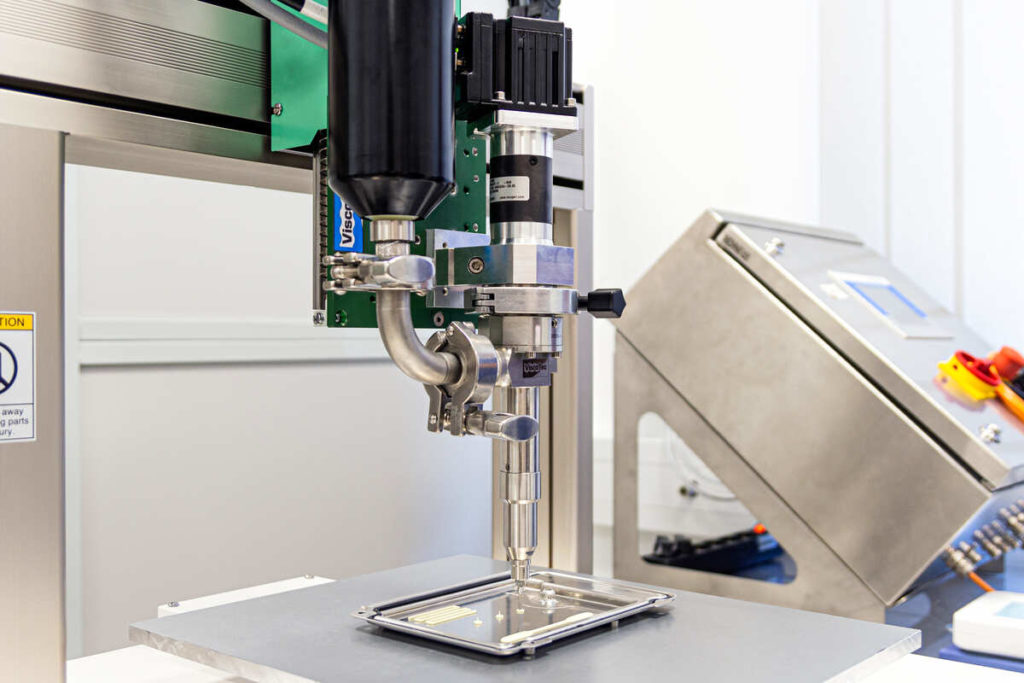 Du er hermed inviteret til vores virtuelle messe!
Hovedemnet på vores første virtuelle messe, der finder sted fra 1. til 3. december, er dispenseringsløsninger til en bred vifte af applikationer og industrier. Fra medicinsk teknologi og 3D-udskrivning til rumfart eller e-mobilitet – for blot at nævne nogle få.
Hvad kan du opleve? 
Messens virtuelle program er forskelligartet: I ledsagelse af udstillingen, der er åben dag og nat, er der mulighed for at kommunikere med dispenseringseksperter via live chat. Dette sikrer, at besøgende fra alle lande og tidszoner over hele verden kan komme i kontakt med en ekspert døgnet rundt. Produktinnovationer præsenteres som liveudstillinger, og en online handelskongres vil indeholde interessante præsentationer om aktuelle emner fra dispenseringsteknologiens verden. Derudover vil besøgende have mulighed for at se applikationsvideoer og dermed få mange interessante indsigter i doseringsløsninger af enhver art.
På trods af coronarestriktionerne ønsker Scanmaster og ViscoTec at være i kontakt med vores kunder og interesserede parter. Således er personlige kontakter en topprioritet på den virtuelle messe.
Alle præsentationer vil være tilgængelige for download efter begivenheden. Arrangementet er gratis og afholdes på engelsk.
7 hurtige:
Dato: 1. december – 3. december
Åbent 24 timer i døgnet
ViscoTecs eksperter sidder klar til at svare på alle dine spørgsmål via live chat
Eventet foregår på engelsk
Det er gratis
Registrering for adgang opnås her: dispensing-expo.viscotec.de
Tilmeld dig eventet via LinkedIn, så du ikke går glip af det. Det kan du gøre her. 
Vil du vide mere om vores virtuelle messe, så se denne video 
Vi glæder os til at dele vores viden med dig!